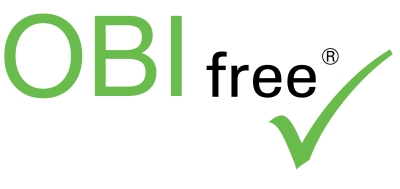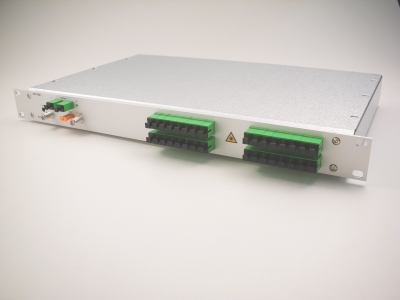 PON-1220 Redundant RFoG Active Splitter with EDFA - 1:32 Ports - 204MHz / 1.2 GHz
The EMC "Powered Optical Network Active Splitter" enables cable operators to ensure legacy Services (AM and QAM) and introduce DOCSIS 3.x based Services like "IPTV" as well as functions like  "Channel bonding" or "Load balancing".
The PON-1220 is designed to facilitate the expansion of a HFC Access Network, allowing traditional "HFC" signals. 

Thanks to the optical Input possibility, "new constructions" or "remote areas" can be easily "added" to the existing Network without to change or adapt every time "Head-End" Equipment.
The Model PON-1220 is rapidly installed and works like a traditional HFC Node but with the advantage to extend the optical Network until the Building or Appartement, eliminating RF amplifying, respective costs for maintenance and ensuring a higher "Quality of Service".
The backbone redundancy circuit of the PON-1220 ensures even greater network reliability.
The compact design of the system permit to serve 32 optical lines within a system size of 1HE/19". In Down Stream the served lines are feed with integrated EDFA and optical circuit combining the 32 single lines. The Up stream includes EMC's innovative Low Noise "Multiline RP-Combiner" to combine 32 optical lines on 1 or more fibers to the "Head-End". 
EMC's "OBI free®" technology  permits to combine optical lines without to limit "channel bonding" or "load balancing" functions as well as to work in parallel with DOCSIS 2.x and 3.x.  EMC's active solution represents a fully transparent and flexible solution supporting DOCSIS, compatible with "other HFC-Systems" and completely "open" for the future digital network architecture.
EMC's "OBI free®" technology  avoid the very complicated upstream node wavelength management, used by many other manufacturers to mitigate the OBI problem.
Key Features:

•  Supports Analogue, Digital and DOCSIS Signals
•  Equipped with Redundant Backbone Switch
•  Equipped with EDFA
•  Available for 32 optical lines
•  GPON compatibility •  EMC's "OBI free" concept avoids optical Interferences
•  Fully compatibility with DOCSIS 3.x