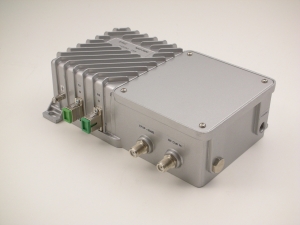 NHP-3500 FTTB MDU Node - 65/85/204MHz / 1.2 GHz
The NHP-3500 is a high sensitivity Broadband fiber optic receiver (1.2GHz bandwidth) for customer premises, designed especially to suit Fibre To The Building (FTTB) applications.
The NHP-3500 is ideal for use in deep fiber architecture networks to convert the optical signals into RF signals at residential block building or MDU.
The receiver utilises a low noise and high sensitivity Photodetector. The standard version accepts optical input signals from –6 to – 0 dBm. The max RF output level reach 112 dBuV.
The NHP-3500 provide a cost effective and flexible approach  for upgrading network architectures. The receiver is featured with return path, allowing the implementation of two-way communication network. Compact design enclosure make it suitable for an environmentally controlled outside cabinet.


Key Features:
- Single/Dual fiber
- DFB 1610nm or 1310nm or CWDM RP Transmitter
- Forward Bandwidth up to 1218 MHz
- Pluggable Diplexer
- Return path Bandwidth 5...65/85/204 MHz
- 112 dBuV output power
- Integrated WDM Filter
- DOCSIS 3.1 Fully compatibility
- Compact, die-cast aluminium housing