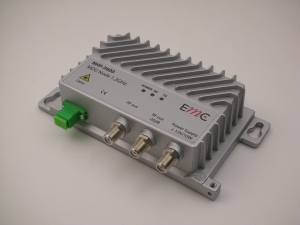 NHP-3600 FTTB Residential/MDU Node - 65/85/204MHz / 1.2 GHz
EMC's innovative "FTTB - MDU Node"  provides a cost effective and flexible solution to install "Fiber to the building" for DOCSIS 3.1 based networks.
The Serie NHP-3600 fiber optic receiver and transmitter enhance incumbent CATV Operators to realize several different fiber projects and/or network topologies without to plan every detail and based on the same product platform. And what ever the future brings, it will be always a solution because of the available model range, flexibility and transparency of the system.
This solution permits a step by step development of a CATV Network from HFC to FTTx. Each building or apartment can easily and quickly be connected to the existing HFC Network without need to change nothing in your Head end & back office. All common communication services such as TV (Analogue & Digital), Data & Voice are supported.
This NEW Model Line of EMC's well installed MDU Nodes, delivers simultaneously CATV Signals in Down stream and DOCSIS signals in Up stream (return path) over a single fibre, converting the optical down stream into RF, and the electrical upstream into optical.
In Case of "Fiber to the Building" applications the unit can be installed direct on a wall or in a Termination Box with the same possibilities above mentioned but related to all connected subscribers of the building.
Compact design enclosure make it suitable for an environmentally controlled outside cabinet.


Key Features:
- Down & Up stream combined on 1 single fiber
- DFB 1610nm or 1310nm RP Transmitter
- Forward Bandwidth up to 1218 MHz
- Pluggable Diplexer
- Return path Bandwidth 5...65/85/204 MHz
- 106 dBuV output power
- Integrated WDM Filter
- DOCSIS 3.1 Fully compatibility